Building the Support Working Moms Need
Blessing Adesiyan '19 (MBA) is the founder and CEO of Mother Honestly, a platform that is reimagining how women build better careers and happier homes.
Her network of over 300,000 ambitious mothers includes career professionals, thought-leaders, CEOs, technology founders and more. She is raising three young children with her husband.
And then there's the startup that she founded and runs – Villo, the first platform tackling the unpaid work – valued at $10.9 trillion – that girls and women perform globally.
She knows about the dizzying, plate-spinning lives of working mothers.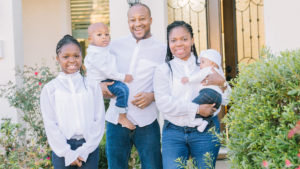 Blessing Adesiyan (MBA '19) with her family
Her experiences guided the creation of Mother Honestly and Villo to support working mothers at home and in the workplace. Adesiyan realized the paucity of support for ambitious moms after she gave birth to her son, Dekanmi, in 2018 while working full time, attending the online MBA program at UNC Kenan-Flagler, and caring for her older daughter, Omotayo. She graduated from UNC Kenan-Flagler days after birthing her third child, Derin, in 2019.
"I could find a lot of resources around breastfeeding, diaper changing and sleep schedules," she says, "but what I couldn't find was support when it came to my ambition. There was nothing that prepared me for returning to work or for my career path as a working mom."
That's where Mother Honestly comes in. "We want to help women thrive," Adesiyan says. "We offer three products: a newsletter that curates actionable insights; a podcast which has thousands of listeners across the U.S. and the world; and an annual summit that brings women together physically to discuss what's working and what's not and how we can help one another thrive in motherhood, work and life."
In 2018, 250 women attended Mother Honestly's inaugural conference and 500 women attended in 2019. Due to the pandemic, Mother Honestly went digital and hosted six virtual conferences to support caregivers and their employers, and attracted over 10,000 women globally.
"It has been a rough and long 15 months for mothers everywhere, many of whom have had to roll up their sleeves to do the hard work of raising their family, building businesses, keeping part-time or full-time employment, caring for an elderly person in combination with battling infertility or an illness, nurturing a pregnancy, suffering a job loss, and so much more," she says.
In March and April 2020, some 3.5 million mothers living with school-age children left active work, either shifting into paid or unpaid leave, losing their jobs or exiting the labor market all together, according to the Census Bureau and Bureau of Labor Statistics. In fact, 45% of mothers of school-age children were out of the labor force as of April 2020. "The two biggest reasons for this shift to unpaid work were that mothers are more likely to work in service-oriented jobs, which were heavily impacted by the pandemic, and they bore the heavier burden of caregiving responsibilities, such as housework and childcare," says Blessing. "The truth is that mothers have always worked in a V-shaped pattern, a down-and-up-cycle, due to gender inequality at home and in the workplace that affects promotion, advancement and earnings."
As a chemical engineer, she is trained to solve problems.
"I decided to make it my mission to solve the problem of not enough support for working mothers," says Adesiyan. "Motherhood matters, ambition matters and support matters. Support is the game changer for women because the hypothetical village doesn't exist."
She aims to create that village with the next phase of Mother Honestly – Villo. Now in beta testing with plans for a fall 2021 launch, the platform monetizes the unpaid and invisible labor performed by women.
"We envision a world where working families do not have to choose between a happy home life and flourishing career; invisible work is not the 'silent killer' of workplace productivity; and one's professional success is not at the expense of his or her partner's own ambitions or well-being," says Adesiyan.
More than 1,000 individuals are on the waiting list for beta testing this new program.
The online MBA@UNC program provided Adesiyan with the tools to develop her business and the flexibility she needed to manage her myriad responsibilities.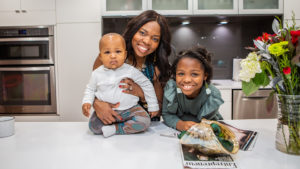 "I went through two pregnancies while I was in the program," says Adesiyan. "Thank goodness for the virtual nature of the class and the amazing students and professors who were instrumental in making sure I completed the program."
She birthed the ideas for her venture while earning her MBA at UNC Kenan-Flagler. "I developed the business case for Mother Honestly during the Entrepreneurship Center's New Ventures class," she says. "Professor John Howell ensured that I did the work to carve out our addressable market, determine our strategy for acquiring these customers, create our go-to-market strategy, and develop a proforma, which helped clarify our revenue and profit model."
"Professor Howell told me that my 15-second pitch – 'Mother Honestly is a solution-driven platform that propels women forward in motherhood, work and life' – was one of the most efficient descriptions he had ever heard," she says. "He helped me understand the opportunities for this business."
"This was a side project for me so I didn't think of it as a business," she says. "But through the Entrepreneurship Center's New Ventures class, my team and I developed the core competencies, business strategy and detailed implementation plan for Mother Honestly."
Adesiyan benefited from opportunities to use Mother Honestly in role-play discussions with classmates during in-person MBA@UNC Summits in Chapel Hill, Taiwan and South Africa.
"Having face-to-face interactions where other students gave feedback was a great way to have my idea validated," she says.
"I chose the UNC Kenan-Flagler MBA program for its flexibility," she says. "I had one child when I started and I knew I was going to have more kids. UNC Kenan-Flagler accommodated my life as a mother, as an ambitious woman and as a professional."
Adesiyan keeps her life in balance by getting support from her husband, friends, family and her employer. "I have no shame in asking for help," she says. "And my partner and I both have primary careers so it's very important for us to talk about how we approach our lives, our family and our careers."
"I don't have all the answers and I don't pretend to," she says. "We are reimagining how women thrive in work and in life, and we are building a village that is committed to helping women live their best lives in and beyond motherhood."
In the end, the satisfaction of supporting families is what drives Adesiyan. "Seeing women happy with their families and their work, and living healthy, productive and fulfilled lives brings me so much joy," she says.